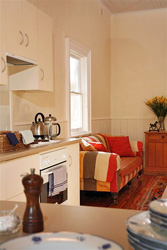 In 1822 Newcastle ceased to be a penal settlement for convicts, thus allowing the Colonial Secretary to open up land in the Hunter Valley for free settlers.
The White Cottage…
In 1832 when the surveyor, Robert Dixon, was commissioned to map the Mount Royal Range (Barrington Tops), the superintendent's cottage on Belltrees, 'The White Cottage' built by Hamilton Collins Sempill, was recorded as a landmark.
This original convict-built sandstock cottage has two ensuite flats, sitting room with open fireplace, kitchen and laundry.
The White Cottage is situated on the banks of the Hunter River and is the ideal place for an intimate and private country escape, or just a great place to spend time with friends and family.
Mitchell Cottage…
Newly renovated Mitchell Cottage has three queen bedrooms, one bathroom and additional separate loo.It is self-contained, open and airy and right on the Hunter river as you can see in the photograph above!