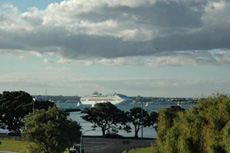 Nautical Nook Bed and Breakfast offers fiendly, relaxed beachside hospitality overlooking park and harbour. Okahu Bay is only 4.8 km (5 minutes) from Downtown. In other direction only two kilometres to Mission Bay. Lovely scenic drive or walk to both destinations. The perfect location to begin your New Zealand adventure. Family friendly with children's playground and safe beach at front gate. There are many restaurants at Mission Bay but we also have an outstanding restaurant close by, only 200 meters across the park.
Auckland is world famous for the Hauraki Gulf and its sailing waters. (best sailing waters in the world). If you feel up to it, we offer a free sailing experience on our 10.2m yacht. White soled shoes required. Weather permitting.
Welcome to Auckland, and remember, you need seven days to fully explore our beautiful city, surrounding islands and area.