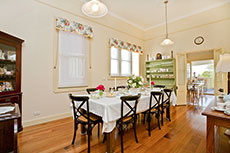 Built in the Edwardian period (circa 1900) as a large family home, Ardara House offers the grace and homeliness of a bygone era. At Ardara House guests can enjoy the relaxed and friendly atmosphere of fine Irish hospitality.

A family-run business, close to the heart of Geelong and at the start of the Great Ocean Road, Ardara House is an ideal place to commence an exploration of Geelong and its surf coast region.
Owen and Maureen spent almost five years patiently renovating and adding a personal touch to every detail of the Ardara House. The warmth of an Irish welcome is evident in the several ample guest rooms of this Edwardian period home. It features luxurious beds and traditional decor. All rooms are spacious and offer the look and charm of yesteryear, but with all the modern comforts and conveniences. The ensuites also feature leadlight windows of Irish theme.
Relax in the cosy lounge, with fireplace, and enjoy a book from the private library.