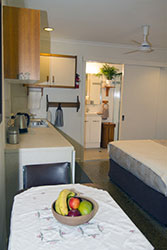 Wilston on the Park is a modern motel-style B&B one-bedroom apartment in a quiet, leafy suburb in the north of Brisbane city.
Start your day with a stroll along the nearby nature trails - the perfect place to take your small dog for a walk.
Have a quiet continental breakfast in the garden then stroll for ten minutes to the train or bus.
At the end of the day, make your way back home for some quiet relaxation. The apartment has all of the private, modern amenities you would expect including a kitchenette, ensuite bathroom, air conditioning, TV, DVD, wi-fi.
If you don't feel like cooking, there are numerous restaurants in Wilston Village or Newmarket Reading or The Home Zone - just a short walk down the road.