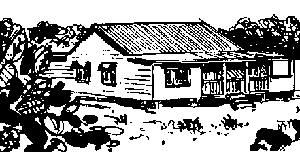 Bimbimbi is a thousand-hectare grazing property bordering the Condamine River and Greenswamp Road, 20 kilometres southwest of Chinchilla and three hours from Brisbane.
When you step out of your car, the tranquillity of this little valley tucked in against 200 hectares of high ridge wilderness will enfold you.
At last, for the pleasure of the public at large, the Gilligan family's closely guarded secret is out! Previously only available to close friends and family, Little Hollow is available for your exclusive use – or you may stay in the new Bimbimbi Homestead.
Settle into the 90-year-old homestead, a pioneering atmosphere blended with all the comforts of home. When rested, explore the wilderness or just laze and watch the Hereford cows and calves graze. It's your choice.