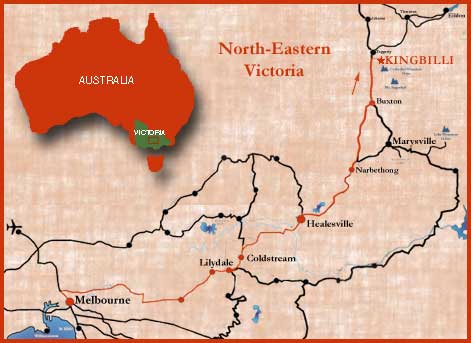 Hidden amidst the inland slopes of the Great Dividing Range, Kingbilli is a tranquil world designed with families in mind. A 300 acre wildlife refuge and rural farming property, home to a wealth of wondrous wildlife and cuddly domestic animals, this serene environment creates an idyllic hideaway for holidaymakers and their children to escape the hustle and bustle of everyday life and experience a little old fashioned Aussie bush magic.
In an atmosphere of natural harmony, Kingbilli's self-contained bluestone cottage, the two-bedroomed Studio, provides the perfect base from which families may explore their surroundings. A place where children can be children, and parents can sit back and relax! Guests remain private and totally independent. Children are free to wander where they will, cuddling curious llamas, donkeys, horses and ponies along the way.
Most native mammals are best spotted after dark, although keen eyes may glimpse lazy kangaroos grazing amongst the llamas in the mornings, or a chubby wombat sunning itself after a chilly winter's night.
Activities are plentiful, from athletic Llama Eco-Treks through the private bushland sanctuary to seriously studious Pouch Professor sessions for kids keen to learn more about their favourite native critters. Alternatively, those seeking a slower paced holiday may simply opt for a lakeside llama-hosted luncheon, a peaceful garden jacuzzi, or a fireside chair with a glass of wine and a good book.
Some find it takes more than a few days for the slow, seamless pace of country life to impose itself upon their psyche. Others simply let the solitude and beauty of the landscape overtake them, sitting to meditate on the rustling of leaves in the cool evening breeze, or the filament-like reflections of trees and rushes on the still surface of a pond. In these moments, the memory of constant motion in the outside world disappears.