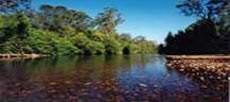 Crystal Creek Meadows is ideally situated for you to enjoy the local historic towns, the beaches of the South Coast and the Southern Highlands. We think it is the centre of all things great to the south of Sydney and east of Canberra.
Being only 3km from Kangaroo Valley Village, you are close to its restaurants and craft shops. We are 16km to historic Berry and 50 minutes to Kiama and its Sunday markets.
Travelling west, the Fitzroy Falls are just down the road and Bowral is less than forty minutes away.
Our country accommodation is also just minutes from the Kangaroo Valley Golf Course. This is a wonderful challenge - an 18-hole course set against the escarpments with dramatic views across the valley to take your minds off the score. Watch out for the fourth!
If you want to know what is on top of the escarpment, just take a horse trek and be overawed by the panorama of Morton National Park. The trek takes 90 minutes and riding experience is not required.
After that, you can pop down to Hampden Bridge and hire a canoe for an hour or a day. The river is a haven for wildlife. You should also explore upper Kangaroo River and take a picnic basket with you.
A short drive down Cambewarra Mountain will take you to pristine Seven Mile Beach. Drive back along Tourist Drive 7 through Berry and the magic dells of the Great Dividing Range.