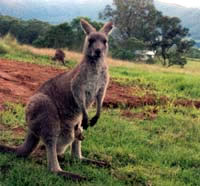 There are many things to do in and around Kangaroo Valley. Canoeing, tennis, horse riding, swimming, golf, bushwalking, shopping and wine tasting are all activities that you can enjoy nearby.
Alternatively, you can enjoy a leisurely stroll around the property, making sure to introduce yourselves to the abundant wildlife!
There are many heritage listed buildings in the village of Kangaroo Valley, and plenty of art, craft and antique shops, cafes and restaurants to keep you busy.
Stroll over the famous Hampden Bridge (top right). The oldest suspension bridge in Australia, which was opened in 1898. It is Kangaroo Valley's most famous landmark.
Visit the beautiful Morton National Park. There are many magnificent areas in the northern part of the park, one of the most popular being Fitzroy Falls (top left). Here the falls plunge more than 80 metres over the sand stonecliffs into the rainforest below. There are walking trails to suit all ages and levels of fitness. Belmore Falls is another popular spot.
Take a drive up to Cambewarra Lookout. The turnoff for this is well marked on the main road to Nowra. From the lookout you will be treated to one of the best views of the South Coast that you will ever see. There are also tea rooms that serve light snacks and Devonshire teas.
Dining Out
You may choose to try one of the many restaurants or cafes in Kangaroo Valley which is an easy five-minute drive away. A list of these is provided in the cottage.
Should you wish to go further afield on your culinary excursion, the towns of Berry, Bowral and Nowra are all within 30 minutes' drive of The Heavens.
Berry
There are loads of antique shops, gift shops, cafes and restaurants in Berry, and the village has developed its own sense of style. There are many National Trust buildings in the village, including the National Bank, Court House, General Post Office and the Customs House.
The Berry Country Fair is held on the first Sunday of every month at the Berry Showground and it focuses on local arts, crafts and food.
Further Afield
If you feel like a bit of an explore, or a relaxing drive, there are many other towns and villages within an hours drive of Kangaroo Valley. These include Nowra, Bowral, Mittagong, Moss Vale, Robertson, Jamberoo and Berrima just to name a few.
Whatever your idea of fun, you will find something enjoyable to do during your stay in Kangaroo Valley.