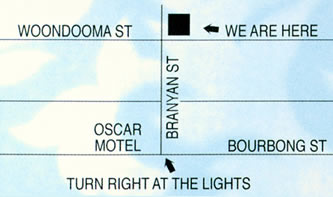 Inglebrae is conveniently situated close to the city heart. You can take a leisurely stroll to the river, shops, restaurants or the theatre.
Bundaberg is the gateway to the Great Barrier Reef and is situated on the banks of the Burnett River. Here the Great Barrier Reef begins with coral reefs fringing the shoreline and our two coral cays Lady Elliot and Lady Musgrave Islands. Reef walk, snorkel, dive and view one of the great wonders of the world, all from Bundaberg.
Bundaberg itself has plenty to offer with two main shopping centres, three golf courses, bowling, croquet, tennis and beaches nearby. Bargara Beach is only 12 minutes from Inglebrae and there you can enjoy fishing, boating, surfing, snorkelling or scuba diving.
Bundaberg has the most equitable climate in Australia with mild winters and cool sea breezes in the summer making our city your ideal destination and Inglebrae the perfect accommodation.