Getting There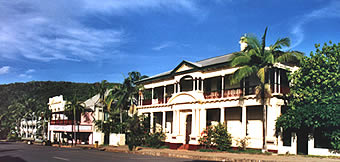 Cooktown (right) is only 35 minutes south and the road is sealed all the way to near the lodge driveway. Coming from Cairns, Helenvale is located a short distance from the Little Annan River crossing on the inland Peninsula Development Road. This road is sealed all the way from Mareeba past Lakeland then gravel until the Little Annan River (centre photo below) and again sealed to Cooktown (30km unsealed).
Travelling the coast road, which is very scenic the road is sealed until Cape Tribulation and busy to this point. From Cape Tribulation on, the track is unsealed and very much 4x4 country, in fact one of the most scenic coastal drives one can do. The coast road is often closed during the wet season due to swollen river crossings; however, the inland road is always open. Flying is easy and there are daily return flights (2 return flights on weekdays). Flights can be booked with the lodge or directly with Skytrans Cairns.
Travel times from Cairns Airport
flight from Cairns to Cooktown 45 min
4x4 transfer Cooktown Airport to Mungumby 40 min
Inland road from Cairns to Helenvale (self-drive) 3.5hrs
coastal bus safari from Cairns via Cape Tribulation 5 hrs
Air safaris across the reef and rainforest are a spectacular way to visit, even if only one way. Self-drive or safari options from Cairns & its Northern Beaches also offer spectacular sights from the ground. Inland offers the true outback, unlike the rainforest-clad coast road it is sealed almost all the way!